Steve Ashley
>>> NEWS & REVIEWS >>>
Welcome to Steve Ashley's official website. Here you will find his definitive biography, a complete discography and regular news updates of songs, shows and album reviews.

February Release of a New Album...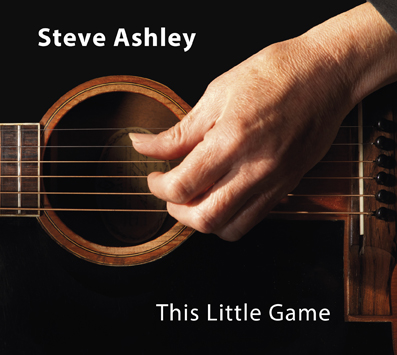 February sees the release of a new album from Steve. 'This Little Game' is his first-ever stripped back solo album featuring just vocal and guitar. With twelve Ashley originals, 'This Little Game' is Steve's first release for seven years including songs which he considers to be among the best he's ever written. The track list runs as follows:

Here's to All The Babies; Playground Days; People in Love; Rainsong; Summer's Come Again; That's Why; Time to Heal; Be True to You; Just Like The Leaves; The Last Deeds of Love; In Your Heart; All Will Be Clear

Recorded in Cheltenham by Tommy Scott and Martin Mitchell, with photography by John Ash, this digipak release comes with complete lyrics in a 12-page booklet and has been licensed by Steve to Market Square, the label which has issued Stroll On Revisited, Speedy Return, the Test of Time anthology, and, through its sister label, Dusk Fire, Live In Concert.

The album will be available from shops and online from February 9. Or, if you are a PayPal subscriber based in the UK, you can order a signed copy direct from Steve for £12 including postage and packaging. Just email steve@steveashley.co.uk for details.

Back On The Road Again

Steve continues to perform solo gigs and the following dates are in the diary for 2015, with more yet to be confirmed...


April 24: The Foc's'le Folk Club, Southampton, Hants. Tel: 02380 510309

May 12: Bracknell Folk Club, Berks. Tel: 07899 751964

May 13: Faversham Folk Club, Chimney Boy, Faversham, Kent. Tel: 01795 423674

May 17: Almonry Folk, Evesham, Worcs. Tel: 07887 523770

June 7: Twickfolk, Twickenham South West London

June 11: The Gallery, Voorburg, Holland

June 12: Roots aan deZaan, Zandaam Holland

June 13: Folk in de Lounge, The Hague, Holland

June 14: Alphen a/d Rijn, Holland

June 26: Cheltenham Folk Club, Glos. Tel: 01242 571185

July 17-19: Festival at the Edge, Shropshire Tel: 01939 236 626

July 24: Wigan Parish Church Tel: 01942 824291

Sept 10 Tump Folk Coventry Tel: 02476 714 370

Sept 11 The Famous Bacca Pipes, Keighley, W Yorks Tel: 01535 605310

Sept 12 Queens Head, Belper, Derbys Tel: 01773 826750

Sept 14 Barnsley Folk Club Tel: 0780 304 9856

Sept 25 Bridgwater Arts Centre Tel: 01278 422700



You can also access YouTube videos of Steve's orchestral performances at Cheltenham Folk Festival and The Robert Kirby Memorial Concert, by clicking here.

Folk Radio Interview

There is a very good interview with Steve by Alex Gallacher on the Folk Radio website. For insights into Steve's early inspirations and his influence upon younger artists click here.

Covers

Recent song covers include Phil Beer's version of Fire and Wine on his live album Plays Guitar and Fiddle. Sings a Bit , The Owl Service's version of Spirit of Christmas on their new Expanded Edition of 'The Burn Comes Down', Hannah Sanders and Liz Simmons' version of Fire and Wine on their EP 'World Begun', Sproatly Smith's version of Candlemas Carol on their album 'Carols from Hereford' (Folk Police), Green Diesel's Fire and Wine on their debut album 'Now Is The Time' and in Australia, two new versions of Steve's setting of Past Carin' – first from Suzette Herft on 'Both Sides Now' and then from Christine Wheeler on 'Rain In The Mountains: Songs of Henry Lawson'.

Having covered Steve's Spirit of Christmas as the title track of their 2010 album, St Agnes Fountain have also included it on their latest release, 'The Best of St Agnes Fountain'. In the meantime, Grace Notes have recorded There Will Be Pain for their 20th anniversary album, '20' (Fellside) and Maggie Boyle and Paul Downes have recorded Once In a While for Maggie's album 'Won't You Come Away' (WildGoose).

Other recent covers of Steve's songs include Bill Zorn's version of Over There In Paradise on his album, 'The Bill Zorn Show', Dobe Newton's new take on Steve's setting of Past Carin' on his solo album, 'A Convict Can't Be Trusted' and The Bushwackers' reworking of Faces In The Street on their latest release, 'The Australian Songbook II'.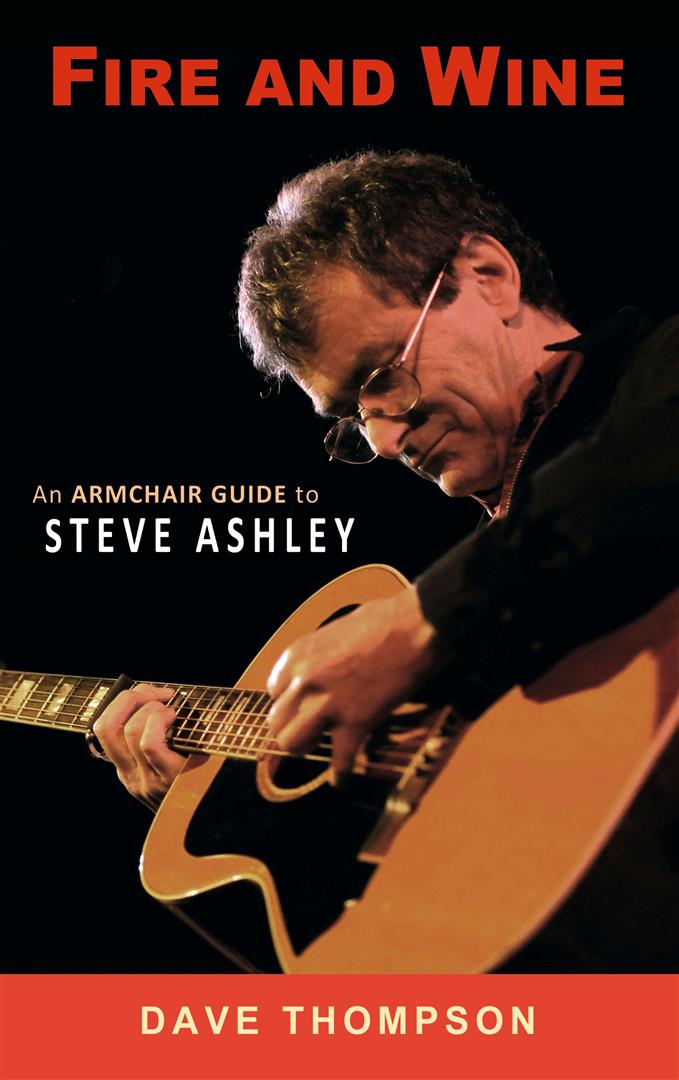 FIRE AND WINE - an Armchair Guide to Steve Ashley...latest reviews...
"Steve Ashley, English, musician, gentleman, activist and all round good guy, an extraordinary life." fROOTS

"You'll be out of that armchair and heading for your CD rack, LP box or online ordering facility." Living Tradition

"...richly evocative...the book will send many back to the man's music" Record Collector

"Anyone interested in English folk-rock will find this book absolutely essential." Sing Out! (USA)

"It's a fine book and a fitting tribute to a great singer-songwriter." Tykes News

"Steve Ashley is a worthy recipient of this Armchair Guide." Caught In The Act

Written by the prolific rock author, Dave Thompson, FIRE AND WINE tells the story of a 50-year musical journey with recollections from Steve, and contributions from a small army of friends and associates, including: Dave Pegg, Chris Leslie, Shirley Collins, Linda Thompson, Bruce Rowland, Colin Irwin, Maddy Prior, Austin John Marshall, Dave Menday, Richard Byers, Maartin Allcock, Dik Cadbury, Dobe Newton, Martin Mitchell, Edward Haber, Peter Muir, Sandy Roberton, Heather Wood, Steven Collins, Ian Smith and David Frohnsdorff.
The paperback version includes a selection of rare photographs from Steve's personal archive, plus an illustrated discography, a complete list of session players from all available Ashley recordings, and a comprehensive catalogue of his recorded songs.
Among the myriad artists about whom Dave Thompson has written books are: Kurt Cobain, Phil Collins, Alice Cooper, Joan Jett, David Bowie, John Travolta, Eric Clapton, Jackson Browne, Bob Marley and Roger Waters. He has also contributed to the magazines Rolling Stone, Alternative Press, Mojo and Melody Maker.
Click here for the UK kindle edition of FIRE AND WINE:
Click here for the UK paperback edition:
"Spirit of Christmas" included in "1000 Songs That Rock Your World"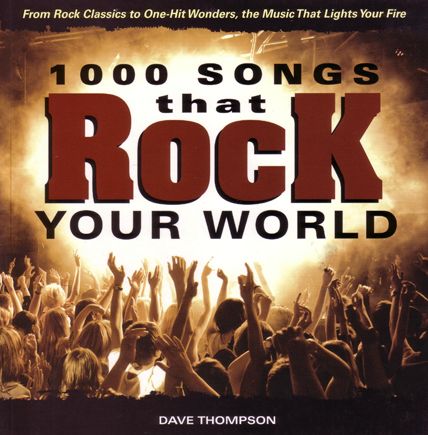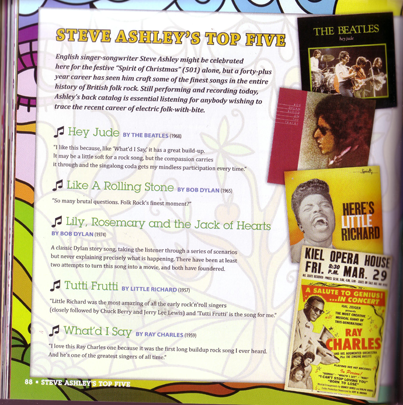 The Spirit of Christmas, which Steve wrote back in 1968, is listed in Dave Thompson's book, 1000 Songs That Rock Your World. Described as 'the ultimate guide to the best music of the last 50 years', the selection is arranged in over 75 themes/categories with 500 colour photos and draws on a wide range of genres. In the Christmas section, Steve shares a page with John and Yoko's Merry Xmas War is Over, in an entry that includes his recollections of writing the song during his time in the acoustic duo Tinderbox with Dave Menday. Elsewhere, Steve was asked to supply his favourite top five rock songs with his reasons why and these are listed in the chapter Steve Ashley's Top Five. For more details, see Amazon.co.uk at http://www.amazon.co.uk/Songs-That-Rock-Your-World/dp/1440214220.
Other UK folk-rock entries include Lindisfarne's 'Lady Eleanor', Fairport Convention's 'Who Knows Where The Time Goes?' and 'Meet on The Ledge' and Richard Thompson's 'I Wanna See The Bright Lights Tonight'.